Product Review - Skip Hop Umbrella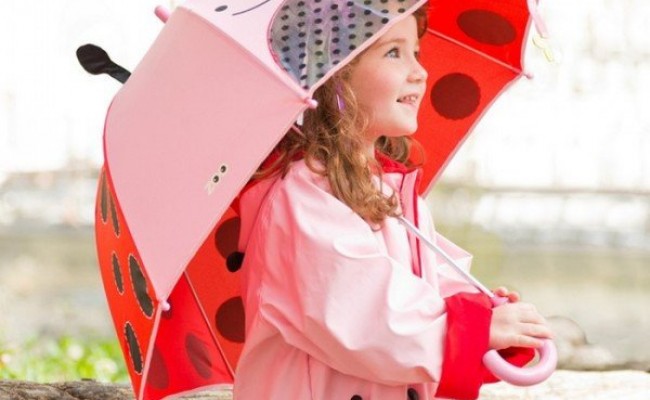 Product Review – Skip Hop Umbrella
Price: $29.95
(You get 10% off using KFD10)
Baby it's Cold outside and these umbrellas are not only very cute, but very practical as well. I have had my eyes on them for some time, and was very excited when the lovely Liza from Mikki & Me asked me to review one.
The most stand out feature, and the thing we love about them the most is the clear peek-a-boo window, so the kids can actually see where they are going, very important! Especially for my 5 year old son who doesn't walk anywhere, he prefers to run – and running with an umbrella in hand, and wet slippery surfaces… yup, you guessed it DISASTER so for us, the Peek a boo window is ESSENTIAL and sets this umbrella apart from all others we have come across… (I now have three, one for each of my rascals!)
It is also a great size for kids, it is not too heavy and it has a kid-friendly release and secure Velcro strap that even my 22 month old can manage to manoeuvre!  
It fits nicely in the school bags (yes it does poke out the top. not an issue though)
Signature Skip Hop Zoo Characters
Clear window
Kid-friendly
Kid Sized
BPA free
Phthalate free
Diameter: 72.5cm
$29.95
Perfect for all children
Comes in a range of designs
Where to purchase? http://www.mikkiandme.com.au/collections/winter-warmers/
Discount code: KFD10 for 10% off – YAY
Enjoy.
Hayley
Join Our Community
Share & Receive FREE recipes your kids will love
FREE Meal Plan app automatically calculates your shopping list
Save Time & Money
Download our FREE app TODAY
Register Today
Download our FREE App
Latest Blog Posts
Need help? Join our community today for free!
Share & Receive FREE recipes your kids will love
FREE Meal Plan app automatically calculates your shopping list
Save Time & Money
Download our FREE app TODAY
Register Today
Download our FREE App