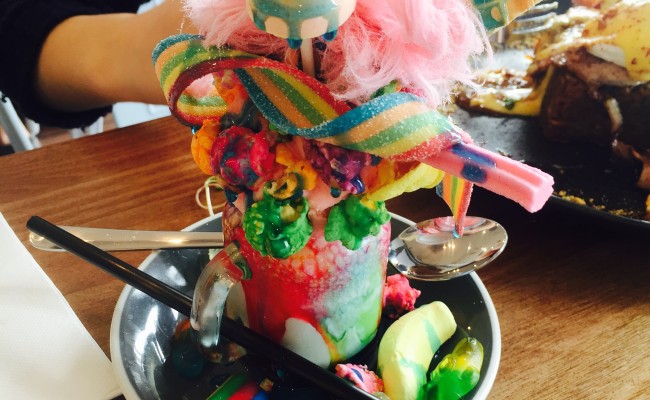 What's all the hype about when it comes to the Instashake?
I've been seeing them for a while on my news feed, they seem to be the latest phenomenon … people are going crazy over them, so much so that owner Steve of Sugar Buns café in Hampton Park has had to put bollards out the front for the lines of customers he has, these shakes have been so well received he often has people lined up around the block for them…. This is the place to go to try out this latest craze.
Sundays are our 'Family' day …. We aim to do something fun with our three kids, and they generally will have a 'treat' along the way, so yesterday we headed to Sugar Buns, we just had to try these bad boys for ourselves and see what all the fuss is about.
Sugar Buns have gained popularity with their mega shake creations and are one of the only places in Melbourne who now have three sizes. The Baby shake $5, Mini shake $12 and the famous Mega shake $16.
Upon arriving we were greeted by the lovely staff, who sat us and promptly took our orders, we ordered breakfast as well … Sugar buns was super busy, but they had the staff to accommodate which was great to see, service was fast, the staff were lovely and nothing was a problem – even our daughter who is allergic to peanuts and is completely paranoid about everything she eats and drinks!!
OMG and then the food arrived, ok yes – our main reason for visiting Sugar buns was the Mega shakes, but as you can see from the photos the food was sensational as well.
And then out came three of the most EPIC shakes we have ever seen….
Our son Olly ordered the Mini Malteser, Ava the paranoid peanut one ordered the Mini Lolly shake *excuse me please no chocolate or anything that has nuts" and lastly Miss Mia our 2 year old got the signature baby shake 'strawberry' Flavor *baby shake is perfect for all the kids though* … just look at their faces to see how much they enjoyed these…. "We should come to sugar buns every day!" declared Olly ….
Overall we highly recommended Sugar Buns for a great experience in the shakes, but also good coffee, amazing food, staff and atmosphere… just make sure you Book to avoid a line up similar to that of a nightclub.................................
Enjoy and if you go, let me know what you thought as well!
H xx
Shop 1a/ 55 Hallam Road, Hampton Park Victoria 3976
http://www.sugarbunsbakerycafe.com.au
Join Our Community
Share & Receive FREE recipes your kids will love
FREE Meal Plan app automatically calculates your shopping list
Save Time & Money
Download our FREE app TODAY
Register Today
Download our FREE App
Latest Blog Posts
Need help? Join our community today for free!
Share & Receive FREE recipes your kids will love
FREE Meal Plan app automatically calculates your shopping list
Save Time & Money
Download our FREE app TODAY
Register Today
Download our FREE App